Best Tips and Ways to Remove Oil Stains from Driveway Pavers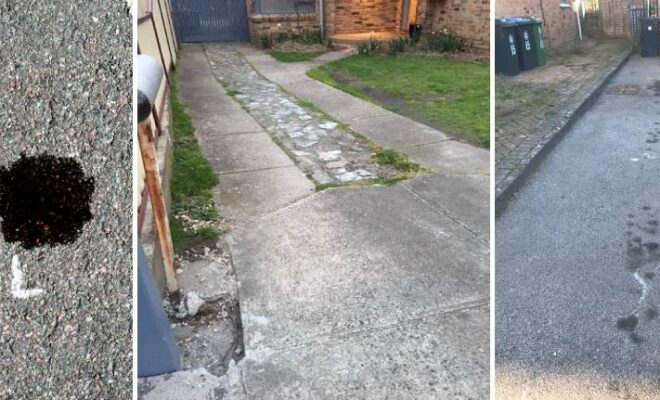 Pavers for outdoor space are becoming a very popular choice because they make the place look aesthetic. Not only do they make your outdoor look classy, but they also require low maintenance as compared to asphalt or concrete flooring.
When we spend so much time and money in choosing the best paver style, colour, and shape, it is recommended to invest some time and money on ways to keep the pavers clean to make sure they look appealing.
There will come the point when your driveway has unwanted stains. There are thousands of reasons why there are oil stains on your driveway pavers. The most common ways can be oil or grease from a variety of tools or equipment, oil dripping from your parked vehicles, or oil and grease from your outdoor kitchen.
Remember if not taken care of these stains will permanently settle down on the pavers and you will have no choice, rather than replacing it with new ones.
It is really important to use the right product to remove the oil stains from your driveway pavers for extended durable and aesthetic outdoor space.
Note: When such stain occurs on the pavers, the methods used to get rid of these oil stains depends on the severity and depth of the stains.
This blog will help you understand steps on how to remove oil stains from driveway pavers and tips you should following.
How to remove oil stains from pavers?
If you want to remove oil stains from brick pavers, the best way is to make sure you clean your pavers after working with any grease or oil. It is said that faster you wash away the oil will help the pavers look more aesthetic.
Step 1: Once you have spotted the oil stains, the next step is to grab some rags, paper towels, and oil absorbent materials. It is recommended to have all these items in handy. If the stain is fresh, cover the oil stains with rags or paper towels. Remember, do not scrub the stain harshly.
Step 2: Apply laundry detergent or liquid dish soap on the oil stain and leave it for 20-30 minutes. Scrub the whole area with a nylon bristle brush and repeat this until the stain is gone.
Note: If the oil stains are very old and dried, spread some granular material over the oil stains and leave it for 6 hours. Sweep the granular material and repeat the cleaning method, if needed.
Alternative Ways to Remove Oil Stains from brick pavers
You can make use of an oven cleaner on the stained area and leave it for 15-20 minutes and wash it away with lukewarm water.
Note: You need to be cautious while using oven cleaner as these cleaners can cause difficulty in breathing.
Another best option available for removing the stains from pavers is using degreaser products that are available at your local hardware stores. Once you get it, follow the instructions mentioned on the label and use it accordingly for good results.
Once you have found the best way to remove all the stains, you can make them look new in no time. If none of the above-mentioned methods works, you can always hire a professional or install new pavers. You can consult a company or a contractor who specializes in cleaning driveway pavers and has experience in cleaning the grease of the pavers. It is always recommended to hire professionals because they have all the knowledge on how to clean the pavers. They also know about the pressure washer and the other equipment that helps to preserve the beauty of your outdoors.
Tips for removing oil stains from your pavers
It is important to note that paver stones are porous and quickly absorb all the stains. Here are some general tips one can follow to keep their driveway look clean.
Tip 1: While installing pavers, you should always talk to your contractor or paver manufacturer for instructions on removing stains. These experts have the proper knowledge and provide the best solutions. For example, stains on pavers caused due to temperature changes can be removed with the help of efflorescence remover provided by the manufacturer.
Tip 2: It is recommended to test the paver cleaners in a small area. This practice helps to save a lot of od time and at the same time, does not damage the pavers. It is also important to follow all the instructions provided on the product label to avoid damage and accidents.
Tip 3: Make sure you rinse of fall the stain remover from the pavers to prevent them from settling into the stones. These stain removers not only change the appearance but also damage the plants in the garden. Make sure you use oil-absorbant granules because while you try to wash away the oil stains, the oil can spread all over and worsen the problem.
Prevention is better than cure! It is always recommended to take necessary actions to prevent these stains from occurring. It is recommended to apply sealant and clean off any spills as soon as they happen to prevent them from settling down.